Scratchable World Travel Map Night Edition Scratch Your Own Poster Holiday Gifts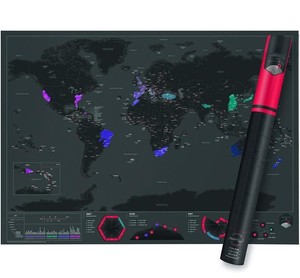 ---
New custom design of the loved scratch map!
Whether it's to discover new places, food, people or just taking time off to relax while having a great time, we all love to travel around the world. Relive all the great memories each time you scratch a spot..! Never forget all the spectacular places you've been to.
The Scratch map allows you to log your travels by scratching off the top foil of the place you've visited, revealing a colorful map underneath and giving you a beautiful, interactive & 100% personalized world map. Not a fan of traveling? No worries, surprise your travel-loving friend, they'd love it!
Share the positive adventures!
Sizing:Size:59.4x82.5cm // 23.3x32.6 inches
Due to high demand, limited time offer!
Custom design, not found on regular stores!
Made from special dense kraft paper to ensure longevity
Lines are clean & really easy to scratch, you can use coins, for more specific spots try eraser or the head of a ballpoint pen etc.
We connect directly with our manufacturer. So, it is a custom shipping which is completely free of charge for you. This shipping however, can take up to around 3 weeks to arrive. Processing is one business day. Thank you!